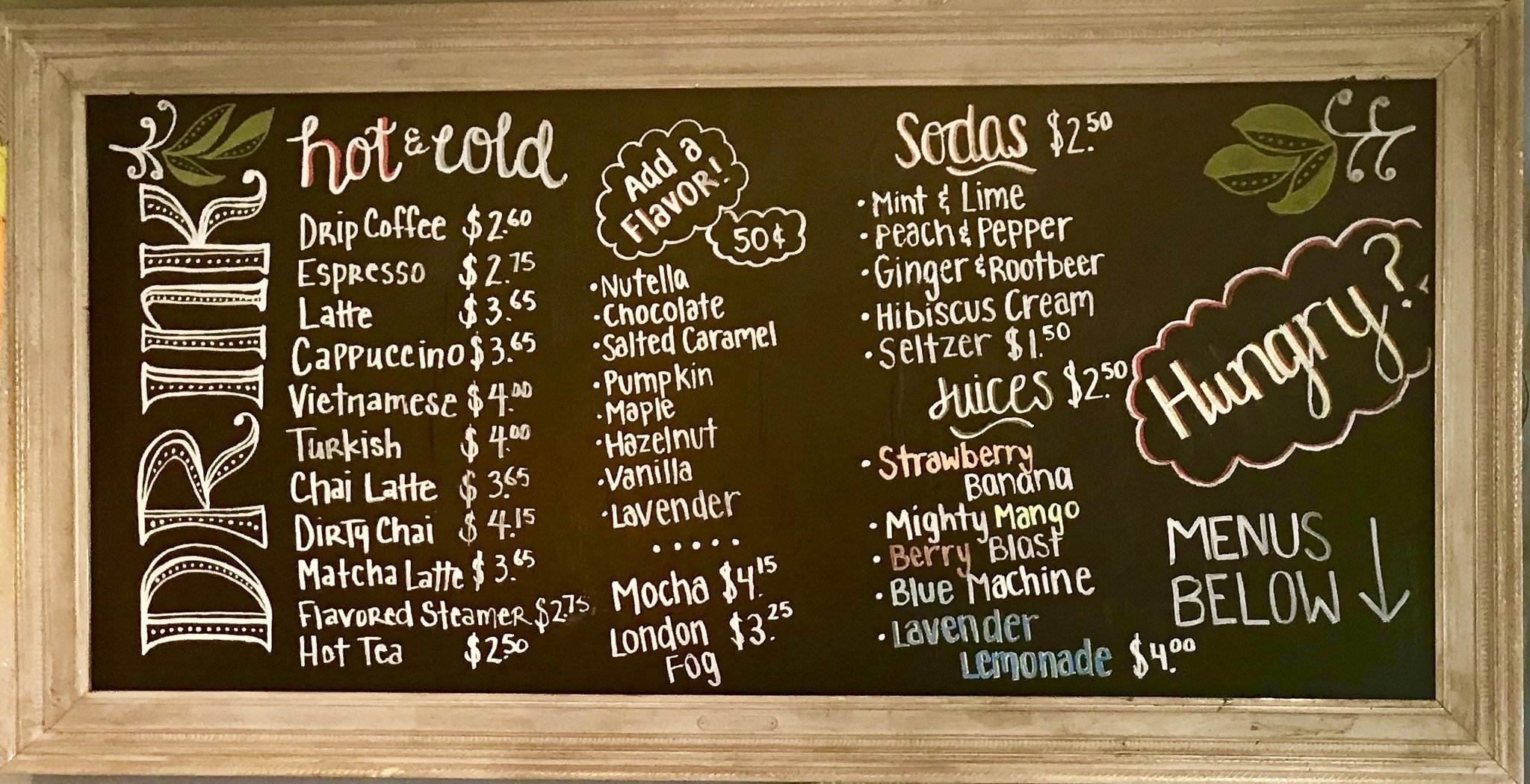 Roots & Vines, Trade Roots' attached cafe/wine bar, is a cozy, casual and unassuming spot to gather with friends or family for a glass of wine or beer and light bites.
Our wines are all organic or sustainable, available by the glass, by the bottle, and retail to go. We especially feature women-owned and family wineries from around the world.
HOT & COLD DRINKS
We support coffee farmers by only selling fair trade coffee daily.
Specialty Coffees:  
Vietnamese $4.00    Turkish $4.00     Matcha Latte $3.65     Dirty Chai $4.15     London Fog $3.25
Organic Teas: $2.50
Darjeeling        Smoked Black       Gunpowder Green       Earl Grey       English Breakfast  
Thai Black     Oolong     Assam     China Green    Raspberry Green    Blueberry Green
Turmeric Ginger    Chamomile     Lemon Ginger    Chai Green    Rosehip Herbal 
Peppermint    Purple Jasmine    Rooibos    Mango Green   Indian Black 
Mash (a soda/seltzer combo: $3.00
Lemon/Ginger, Pineapple/Coconut, Grapefruit
Juices: $2.50
Strawberry Banana     Mighty Mango     Berry Blast     Blue Machine  
Lavender Lemonade $4.00 
CURRENT WINE/BEER MENU
 Always available by the glass and by the bottle
REDS
Espelt Garnacha 2016, SPAIN     Ancient Peaks Merlot 2016, CA    La FLor Malbec 2016, FRANCE      Dama de Plata Cabernet 2015, CHILE
WHITES
Novellum Chardonnay 2016, FRANCE    Domaine Baron Sauvignon Blanc, FRANCE     Francois Montand Brut NV, FRANCE
BEERS
Hacker Pschorr Munich Gold: $5.00   Fullers London Pride: $5.00    Rogue Dead Guy: $6.00   Southern Tier 2x IPA: $5.00    Woodchuck Pearsecco: $5.00    Taj Mahal: $6.00    Potomac Smoketown IPA: $6.00
BAKED GOODS
   Muffins: blueberry, chocolate, banana nut, lemon ricotta, pumpkin, chocolate chip
   Scones: blueberry, cranberry walnut
   Cookies: chocolate chip, molasses, snickerdoodle, oatmeal chocolate, VEGAN chocolate
   Mini Pies: sea salt chocolate chess, bourbon pecan, apple crumble
Menu
Hummus Platter: $6.50
Mezze Platter: $9.50
Savory Pot Pies: $8.50
Spicy Veggie, Chicken Curry, Bacon, Egg, and Cheese, Roasted Lamb,
Steak and Mushroom, Egg Whites and Broccoli, and Steak and Cheese
Violet Rice & Veggie Salad: $7.50
Turkish bites
Borek w/ salad - $9.00
"Crepes" w/ salad - $8.00
Mini Frittata with pita chips or carrots $5.00
Sandwiches: $8.50
Lebanese (Hummus, Lettuce, and Tomato),
Moroccan (Eggplant, Maghreb, Lettuce, and Tomato)
Mediterranean   (Baba Ganoush and Taboule)